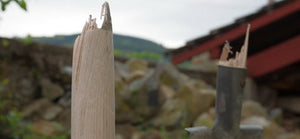 Handles & Hardly any Hickory
This will be a quick post, but an important one.  We're getting more and more into handles these days.  We recently secured a source for replacement ash handles for many of the most common Rogue tools.  They are high-quality, and cost-effective solutions to that tough break on the trail - your favorite tool now has a stub for a handle!  We can get that sorted out for you - check them out here.
Speaking of handles...we're having a tough time getting hickory-handled tools from Rogue at the moment.  These are the shorter, curved hoe handles.  This has us out of many of (y)our favorite tools - 70H, 60A, 80R, and a few others as well.  We have them all on standing order with Rogue and will have them back on the shelves as soon as possible.  We appreciate that Rogue is very diligent in choosing their handles and so it takes a little longer to get them sometimes.
Hope you have a good handle on the fall build season.  Back to school and back to the dirt!
- Team Cascadia
---